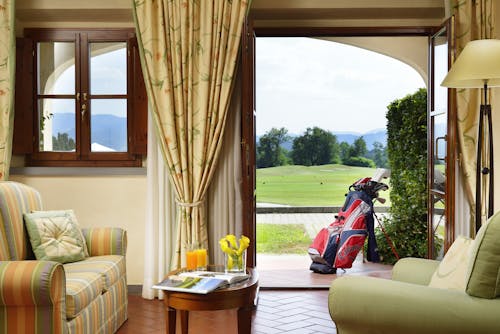 FLORENCE
Poggio dei Medici Golf Club
Golfing in the lands of the Medici
Opened in 1992, with 18 holes par 73, and a Championship course of 6.468 meters long, the UNA Poggio dei Medici Golf Club course is one of the finest in Italy. Designed by the architect Alvise Rossi Fioravanti and by the golfer Baldovino Dassù, it was built to USGA standards. Poggio dei Medici was immediately recognized as "The Best New Golf Course" in Italy. Poggio dei Medici UNA Golf Club hosted 1 Alps Tour and 3 European Challenge Tour.
The Golf Course, set in the Mugello valley, sheltered by Apennines, offers 5 different starting tees for an exciting game for all levels. The offer includes an extensive Driving Range complete with Pitching and Putting Greens, bunkers, 6 covered and 24 opened positions, PGA instructor available for private or team lessons. The Course is open all the year round, seven days a week and it's 100% organic.
Poggio dei Medici UNA Golf Club was also awarded at the World Golf Awards as Italy's Best Golf Course in 2016; Italy's Best Golf Course and Italy's Best Golf Hotel in 2017; Italy's Best Golf Course in 2018. With its 5 different starting tees for each hole, the course is suited to players of all levels and has hosted international golf competitions: 5 Italian Women's Opens, 1 Alps Tour Open and three European Challenge Tour Opens.
Our Selected Golf Courses
We have selected the best golf courses on the way to Rome. Arrive in Milan or Venice and discover the Italian beauties while playing your favourite game.
We bring you to discover Rome 2022
Enjoy a Ryder Cup™ experience playing on the golf course that will host of the 2022 edition of the most famous contest between US and European golfers.
ROAD TO ROME