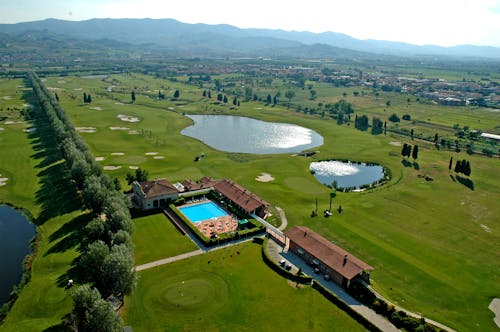 FLORENCE
Le Pavoniere Golf Club
Golfing in Florence in a Arnold Palmer's course
The Pavoniere Golf & Country Club is one of three Italian projects that have been completed by the Arnold Palmer Design Company and it's a mid-1980s layout that sits within an estate that once belonged to Prince Leopoldo de' Medici. Few miles from Florence city center is one of the rare city courses.
The landscape's a little flat in this part of Tuscany so a significant amount of soil was shifted to create some contours around the estate. As a result of this earth movement, a number of small, interconnected lakes now provide their own strategic challenge on both the front and back nine. The first eight holes are separated from the remainder of the course by a line of birch trees and these fine arboreal specimens have been supplemented by almost two thousand new plantings that will add greater definition to the holes when they reach maturity. Feature holes include the long par three 5th and short par four 6th, routed on opposite sides of the same lake, and the second of these two holes is most unusual in that the tee shot is played to an island fairway from where an approach to a sand-fronted green is then executed. The back nine concludes with a demanding par four that doglegs right from the tee, past an intimidating lake that feeds into a small pond on the left side of the fairway, and the home green sits behind this smaller body of water in front of the clubhouse.
Our Selected Golf Courses
We have selected the best golf courses on the way to Rome. Arrive in Milan or Venice and discover the Italian beauties while playing your favourite game.
We bring you to discover Rome 2022
Enjoy a Ryder Cup™ experience playing on the golf course that will host of the 2022 edition of the most famous contest between US and European golfers.
ROAD TO ROME