TUSCANY
Argentario Golf Club
The only PGA licensed golf course in Italy
The Argentario Golf Club, which hosts various of the most important golf tournaments in Tuscany and Italy, features 18 panoramic holes for a total of 6,218 metres and par 71.
The 18-hole golf course and the driving range, which were inaugurated in 2006, have been designed by the architect David Mezzacane and the professional golfer Baldovino Dassù. The holes were subsequently shaped by Brian Jorgensen: the result is a varied, spectacular and technically challenging course. Among the 18 panoramic holes with mostly small greens, two dominate the sea and the lagoon, one is immersed in the Mediterranean vegetation, and another features water hazard running along one side of the green.
The course has been awarded the "Agri Cert" certification for its bio eco-compatibility, and all products used for its maintenance are completely natural. In 2019, Argentario Golf Club became the PGA National Golf Course Italy, and is the only PGA licensed golf facility in Italy.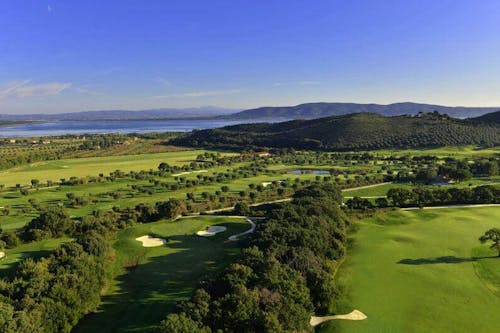 Our Selected Golf Courses
We have selected the best golf courses on the way to Rome. Arrive in Milan or Venice and discover the Italian beauties while playing your favourite game.
We bring you to discover Rome 2022
Enjoy a Ryder Cup™ experience playing on the golf course that will host of the 2022 edition of the most famous contest between US and European golfers.
ROAD TO ROME